Nigga...Session A was nuts!...that shit ended @ like 9:45....cops cam thru and shut it down cause some girl got robbed or something.....it was crazy...I had my J dilla record out like "Fuck the police"
and my nigga Ace got it on camera....It was mad live down there....But Visionaries were ill, mad entergetic, mad packed, (Cats were not tryin to miss that shit and it was free?...shiitt) My nigga rhettmatic killed it tho....jugglin and cuttin and what not...then he got on the MPC and made a beat on the spot...Peace to the Beat Junkie sound!....shit was sick!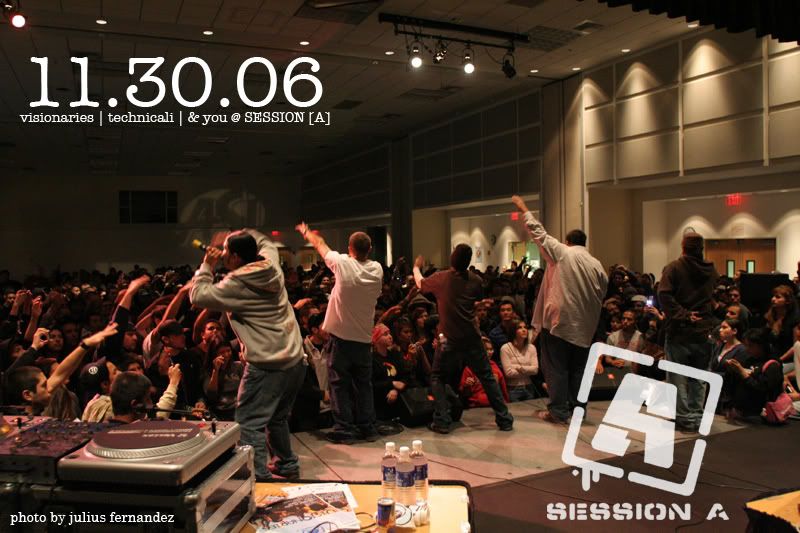 But what was really ill was that Ace got alot of that shit on tape..My bad to girl that got robbed while we're inside having our fun...Truth be told I think that will prolly be the last Session A that will happen cause...
1.@ the last one niggas were smoking weed
2.Some philipina got robbed
And that shit is @ a college...I just wanna apoligize to the crew of Session A who work hard to get those kinda acts out here to perform....I know it must be hell tryna get clearance for that...but tonight I think this was hands down the illest session A....
BTW
Big ups to all the clothing booths....Rooted Movement included!
Video footage coming soon!
Sooner than you think...
til next time
I'm out
-Corn