ahhhh.
Now the second I heard they were opening a LA location.
I flipped the fuck out.
YOU GOTTA BE KIDDING ME.
HERE?
IN CALI?
YAAAAAAAY!
LOL.
and there it was.
Turntable lab LA.

the one place where a man or woman of substance with a blunt can soak his sorrows and bask in the awesomeness that is this store.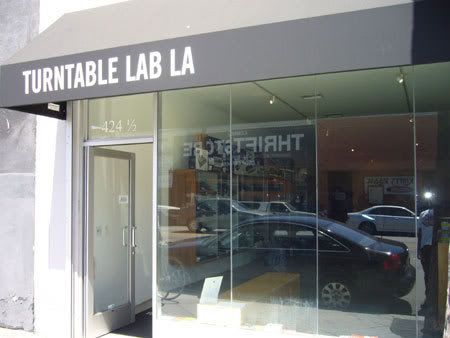 First opening it's doors in New York,TTLab offered more than just records, they offered a perspective on how the music, culture and fashion can still be fun and limited @ the same time making it the only place where a beatmaker,a dj,a hypebeast or the simple collector can purchase, listen, read, or simply admire an assortment of records (domestic and imported) streetwear, dj equipment, books, accessories, and production tools such as Akai,Technics,Mackie, Ableton, Rane and also the illest new gear to hit the streets such as Mishka,Reason,Milkcrate Athletics, No Mas, LRG, 10 Deep, and WESC.

In a world where it seems impossible,fashion and music can truly co-exist wit no egos and bullshit.
Notwithstanding their popular blog and website
http://www.turntablelab.com/
, they're staff is just as important,cause there's nothing worse than going to a place to cop something and the person selling it to you not knowing what the fuck it does or how it works (I hate that),employing the creme de la creme of the LA music scene,you can pop into TTlab and be dazzled to see The Gaslamp Killer,Mestizo,Blu Jemz,Gina Turner,Mike Gao,or Dan Oh behind the counter ringing up your new needles,Justice import 12" and your Playboy's Women of the 60's paperback.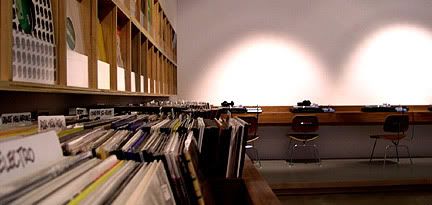 Heads would further buzz about the various collabs w/ Stussy, Gravis, and The WMC in miami throwing legendary parties heard about round the world.

Also being a major hotbed for new talent,located on what people have coined "The best thing to ever happen to LA",the little armenia section of Fairfax and Melrose, sourrounded by hypebeast /fashionista establishments such as The Hundreds,Reserve,Flight Club LA,SLB, HUF,Diamond Supply,Alife,Supreme,and Hall of Fame. (oh,not to mention my fave Canter's which a resturaunt but come on, They got bomb ass cheesecake)

Anyways,Throwing their widely popular "In-stores" w/ FREE BEER(as always) they have played host for mad producers, dj's, and artists such Strange Fruit Project,Exile,Aloe Blacc,Nosajthing,Diplo,Stones Throw Records,Dark Alley,Free The Robots,Flying Lotus, and a slew of others,Turntable lab LA is the place to be anytime of the week,day or night,especially if you have a blunt, lol.
GET LIKE ME

http://www.turntablelab.com/