THE PAST, THE PRESENT, THE FUTURE.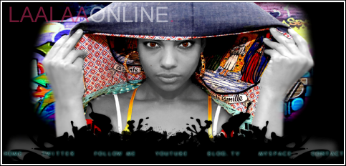 She is ill, like the b-boy battle NUFF SED!
(honestly, I think it's in the eyes)

she creates.
blogs.
hustles.
colors.
opinoins.
life.
she comes off hard but is so lyte as a rock.
(I LIKE THAT)
but nonetheless she creates imagination being as beautiful as the vouyeristic sights and sounds on her testament to the world, or the non-lame fucks.
LAALAAONLINE?
I like it.
http://LAALAAONLINE.BLOGSPOT.COM