Over the past few months,I been hearing nothin but good news from my man's Rick over at BBI Clothing (Barely Broke Intellects) and the news just keeps getting better.Did I mention they sponsor your boy cornBREEZE, oh yeah,keeps me lookin fresh.

to know the line is to know it's CEO,Rick Mantano,as a good friend of mine this guy is the prime example of a hardworker,having participated in countless events ranging from sneakers to fashion to music,he has kept BBi aflow aside from the countless haters and there such as.

On the brink of the new year and a new set of swag,BBI has a important week ahead of em, as they are about to release the new Fall line for 2009 with a whole new look and feel for the winter season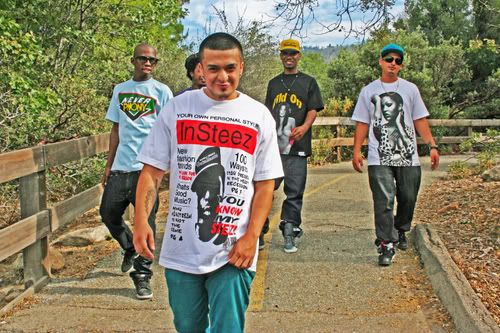 (Pictured clockwise; Adrian Mckay,Brett Billions,Epic,Celphi,Rick Mantano)
with inspiration from not only the IE and other places around Cali and Vegas,the message behind BBi still remains the same; "Not filthy rich but bitch I'm barely broke".
Even with nothin but lint in your pockets and and a snapback on your head,Intellectually we are rich in the mind never forgetting what we strive to acheive.Proving eveyday that you don't have to be rich to live "the goode life".
Not only a clothing line,BBi is also a lifestyle,Every wednesday evening they hold a weekly event appropriately titled The Network Mixer,giving you an opprotunity whether you dj,makr music,b-boy/b-girl,make clothing,or simply wanna get out of the house and chill,this is the perfect place to come and do it,Located @ Okawa susho and grill in Rancho,it's free all night,21+ complete with a full recession menu of cheap drinks and sushi.

Also this week BBi is having the release party for the new fall 2009 line.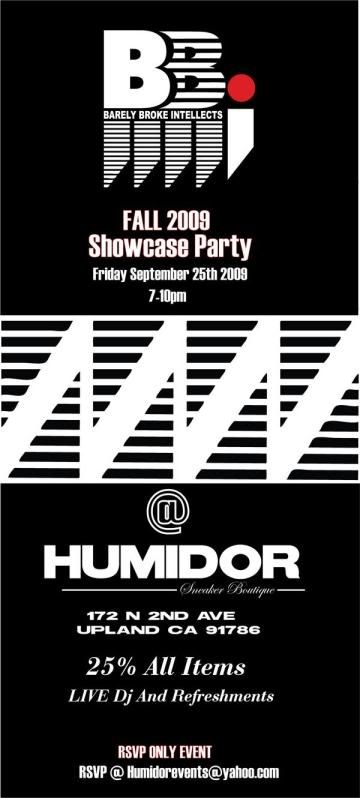 located @ the Humidor Boutique in Upland,this is sure to be a party you don't wanna sleep on.This is also an RSVP event only so if you're major,make sure you send em one so you can get in.

-get like me


RSVP: Humidorevents@yahoo.com